Amores Perros (Love's a Bitch)
By Lupita Kirklin
Click here to watch the Amores Perros trailer
Amores Perros is a film that portrays three complex stories that are interconnected amongst each in a very subtle way. Iñárritu was interested in avoiding three short films and rather show an intertwined intelligent structure. Because if he had told the stories in chronological order the film would be lesser. So the intertwined structure is the spine of the film.
In every story we can find love, which can be pretty bitchy when it turns to vital need, and also we find hatred in the same intensity.
The film shows how pain is the same for all. It is universal. That is, a person will suffer if they are rich or poor, a communist or a capitalist, a yuppie or a beggar, the king or the slave. It is sheer realism because that's the way it is and it's nice when you can go to a movie and see a story about something happening to somebody else. It is real, and you can say that you can feel something and share that feeling. Movies are all about telling stories, and it doesn't matter who's telling the story; they must be told, and people must be open to them.
This is a gutsy movie. It is an endearing movie in that sense. It is a movie that digs into your guts; it digs into your heart, and under your skin and gets into your bones. This is what this movie is. It is not an intelligent nor a sentimental movie, it is a film that is very moving and it can even move one's livers, stomach, cut their breaths a little funny, it is a heart moving film above all. This movie is intended for people to live a certain experience in which one will be deeply moved. And beyond all, this is a rough movie that portrays the crude reality of life. This movie focuses in the way strong emotions are expressed in the human condition in an infinite number of possibilities.
The characters change according to their surrounding circumstances. They invite to great discoveries within us in our human condition to deal with deep emotions and pain. And this is the unspoken within us, the characters portray the unspoken of the living experience.
This movie also shows how pictures are a very fundamental aspect, just like the music people listens to. The pictures show what we wished and express a little about ourselves.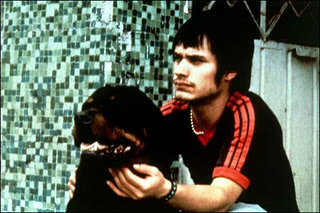 For example, Octavio wants Susana's love. He wants the power of metaphorically or symbolically killing his brother, that is, he wants to defeat him and be able to take his place, the position of the man that his mother has never allowed him to have. He feels she thought less of him. So Octavio is trying to find the recognition of his mother and his brother through betrayal, through a love that doesn't belong to him, and through power he doesn't have in order to show himself because he has never had love. And that's what he's mistakenly trying to find in Susana. His story is about desire, of uncontrollable animal force that leads him to do terrible things or take formidable actions. Octavio starts out with a pretty confident rationality. He is straightforward, and he knows exactly what he is doing, until the accident happens, and all that self-confidence is stripped away, madness enters into him.
So in Octavio we see what is meaningful in his life through the pictures he carries in his wallet, he has the pictures of Susana, his mother, his dog.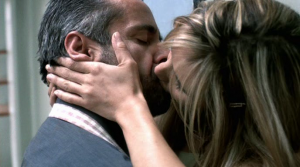 As for Daniel, he wants to escape from himself and his routine life, away from his boredom and of his mid-life crisis. He is seeking to feel young again through a famous model, Valeria. He wants to feel alive again and live what he has lived in the past but he feels he has lost that already. But Daniel, still has his family in his heart and we see this through the pictures he has on top of his desk at work. his family is his blood and it hurts to leave them behind. He is unable to manage, his escape is laughable, imaginary and unreal.
Valeria is a very moving character. We see in the film this couple's self-destruction because it is based on Daniel's escape and even her own escape from her roots. She is foreign and has a rift with her father. She is mother-orphan and her father believes that because she is a model, she is a whore, and this is a cultural common thinking in Hispanic population. This is one of the more solid stories, the story of this couple with a very solid foundation in the sense that they are seeking escape in each other but bring their own unresolved baggage. How is this shown? Well, these are two people that form a couple that go through thought times and crisis in two weeks, making them live what most couples live in 60 years of marriage, and therefore, they self-destruct the relationship. Evidently, at one point in a person's life there is the experience of a destructive relationship, and so in the end one can always identify with these characters at some point.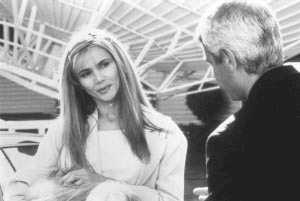 So Valeria connect us with pain, and how pain transforms a person into both ends of the cord, the animal side of human condition and the impotence of not being able to manage extreme pain and dependency, as well as connecting the person with an inner journey that forces you to take a close look to your inner drama and inner narrative. Valeria is a woman who suffers tremendously and her character remind us of many people in similar situation and that, commonly, when we suffer a small fall we believe our inner world ends and so she makes us see that there is people in worst condition than ours. One never knows what can happen to us, because life comes along with uncertainty and many of us don't know how to deal with uncertainty and limbo states. The story of this couple is a love story and a decadent story at the same time. Also, if we pay close attention to the big post on the street and the add in which she is modeling, it says the word "Enchant." And enchant that ends up being broken.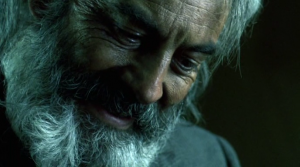 As for El Chivo. It is all about what's going on in his own head, his own inner world and inner drama. We see this in the film when he has the picture of his little daughter on the roof. She is his great world, his great absence he feels. His story is the great defeat of his life and narrative. He gave it all up in order to pursue an ideal. A term that defines Chivo is disenchantment. And this is a conditoning element because within this feeling of disenchantment it comes with it a feeling of guilt, sanction, and lashing out, and deep solitude, which acts like a self-inflicted sorrow. He no longer wants to deal with anybody other than his dogs. El Chivo is one of the most interesting characters because he starts off as being a mysterious and inexpressive person. A person that says very little and kills a lot, he is a hitman. He is a man of a few lines precisely y because of his great solitude. At the end he ends up becoming a person of flesh and bones, very much alive. He is no longer dead. He is a very moving character as well.  He shows to be very human then some of the yuppies who are apparently more rational or civilized. So finding the reasons that lead to this character to lose all hope for life and all faith and his whole life. He has no life of his own and suddenly this aspect is very moving because one realizes that anybody can fall into this type of life. We all can become El Chivo at some point, in some way in our life.
So this dramatic cycle in the film, like 20-25min that El Chivo narrative lasts, it is a story that lasts and that is present in our lives at one point in our lives. This is very impressive because when El Chivo finds the pictures of Octavio, Ramiro and Jorge, you relive the story of each of these characters. And through the pictures the stories get intertwined. El Chivo realizes that these stories are very alive and thus he is alive still. If I had to put in fewer words, every story is embedded in passion, love, hatred, animal intensity and survival.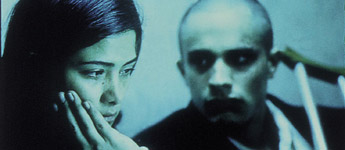 The vicious animal nature of the dogs which is unleashed during the dogfights, seems to be an apt metaphor for the violent side of man, as embodied by the characters in the film and society at large.  This gritty film looks at a cross-section of society, from working class citizens to white collar professionals and models, seeking to connect these characters through their more primal instincts.
The opening scene is that of a speeding car.